EveryIncome
Professional Network
Expand your customer base, connect with the right audience at the right time, and educate your clients using best-in-class digital tools and content.
Professional Network Listing — Free through Dec 1, 2019
EveryIncome Pro Network will match consumers with:
» Financial Advisors
» CPAs
» Attorneys
» Insurance Agents
Includes: Basic landing page on EveryIncome, and inclusion in the Pro Network
A basic Pro Network listing is FREE through Dec 1, 2019 and $99 per month after. Be first in line to welcome and work with consumers as they enter our EveryIncome Community and begin to define and meet their personal financial goals.
Personalized Content Marketing Services
How do professionals and financial advisors set themselves apart from the pack? By telling their story, and using best-in-class services to deliver that story strategically. EveryIncome is here to help you tell your story.
Professionals need to educate their clients about trends in investing and income growth — while also growing their customer base economically and efficiently.
Our content marketing services will help you develop your digital messaging to attract new clients and grow your audience.
Our introductory content marketing plan consists of:
» A listing in EveryIncome's Pro Network.
» Upgraded landing page on EveryIncome: Our team will develop an enhanced page for consumers to find out more about you + your expertise. The page will include your photos, brand logos, information about your operation and more.
» Custom content: Our experts will interview you about your specific expertise, what you're focused on currently, and how you can help investors achieve their goals.
» Social Media: Our team will create content and imagery for social media posts to promote your site and content.
» Video: EveryIncome can provide video production services for a separate fee. Contact us to find out more.
Monthly content marketing package — Introductory Content Marketing Plan, at $399 per month, includes:
» Development + hosting of upgraded landing page in EveryIncome Pro Marketplace
» One custom content piece per month
» Three social media posts per week
  Interested?
Find out more about our new platform and our content marketing services.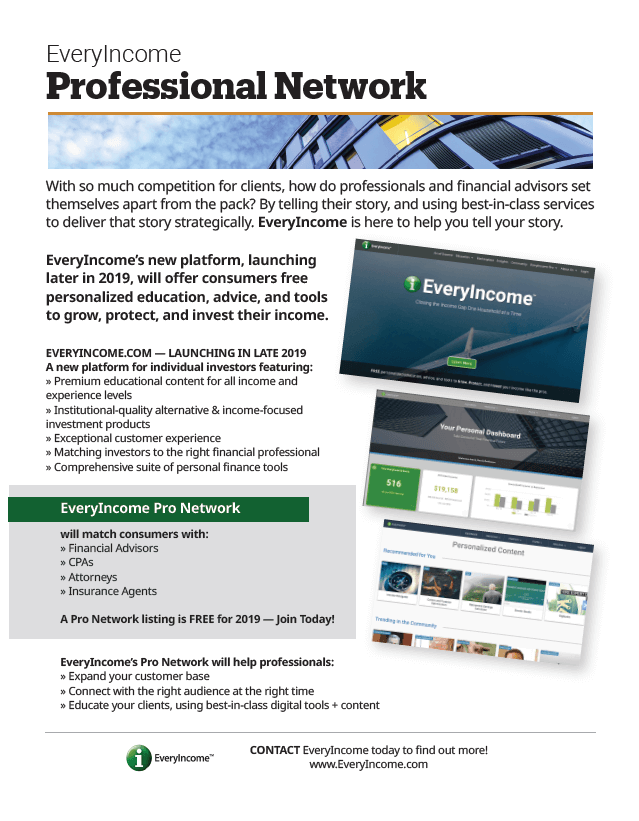 Professional Network Registration
Professional Network Listing Benefits
FREE for 2019!
Includes: Basic landing page on EveryIncome, and inclusion in the Pro Network.
Dedicated Content Marketing Services Benefits
$4000 per month; includes all features of the subscription service.
Listing the offering on the EveryIncome Marketplace will provide the product offering with the services of a managing broker dealer facilitating investing in the Offering and channel marketing and distribution.
Product Offering Listing services can be halted at any time by providing 30 days written notice.