Confused by search engine optimization (SEO)? You're not alone. If you're like most financial advisors, your email inbox is flooded with SEO offers from companies in India promising to improve your site's ranking. But how do you know if your site really needs SEO work? And what should you expect from a SEO service?
In general, your site may need SEO help if any the following are true:
You've never done any SEO work on your site
You have recently changed your address or phone number
You have multiple websites or multiple physical addresses
Your firm doesn't appear on Google maps
Old data is showing up for your firm online
To find out for sure how your website is ranking and if you really need SEO help, try these four steps:
How To Tell If Your Website Needs SEO Help
1. Search For Your Business Name
First, go to Google.com and enter the name of your business to see if you come up. If you aren't searching from the location of your office, enter your business city name too, for example, "pilot wealth management troy, michigan."
If your website is not coming up as the top search result for your business name, that means your SEO needs some serious work. If you do not have a Google My Business Page on the right sidebar with your information, that's a good clue that you have not laid the SEO foundation for your firm yet. The example below is what an incomplete business listing looks like. Note that there is no website listed or business hours, there are no featured photos, and the name of the business isn't properly capitalized.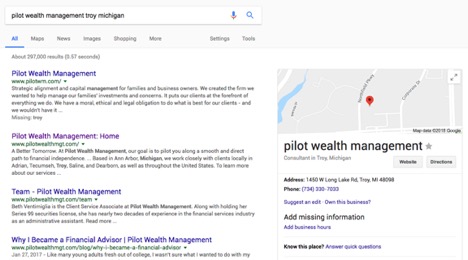 2. Search For Relevant Keywords
Next, you'll want to see how you rank for relevant keywords. Enter a few keywords and your city name to see where your firm ranks, like "financial advisor in paradise, ca." Check the Google Places listings to see if your business shows, then scroll through the organic listings below the Google Places to see where you rank. Make a note of the page number you show up on and your overall rank for a given keyword.
3. Search For Your Business On Maps
Finally, open up your map application on your smartphone and search for your business name. Make sure that your office shows up on maps with the correct address and phone number to make it easy for your clients to pull up your phone number and get directions to your office.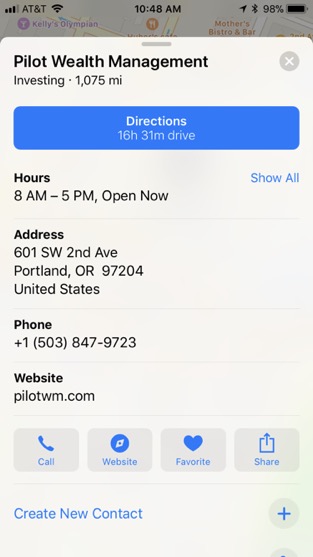 4. Get Your SEO Score On WooRank.com
Woorank is an SEO and website analysis tool that can show you how your site ranks and what items are hurting your score. Go to woorank.com and enter your website URL. If your site has a score of 80 or less, we can improve the individual components of your SEO including site speed, title, description, and more. The WooRank SEO scoring tool explains and suggests what needs to be done to improve your site.
If you're disappointed in the results of your search, don't worry, it's easy to make big changes in your SEO rankings with a few important actions.
How To Improve Your Website's SEO
SEO work is technical and best addressed by a professional for the greatest results with the least investment of resources. When choosing your SEO firm, follow these guidelines.
Outsource To An Expert Familiar With Financial Services
It's important to use a firm that is familiar with SEO specifically for Financial Advisors and understands the compliance rules for financial advisors. SEO firms that are unfamiliar with our industry will want to use reviews and testimonials to highlight your firm, which is strictly forbidden by FINRA.
Don't Spend Over $1,000
SEO can be complex, but since it's so widespread and important, prices have come down a lot in recent years. You don't need to spend more than $1,000 on your site's SEO to get powerful results.
Don't Sign Up For Ongoing Maintenance
Unless you've changed physical locations or the URL of your website, there is no need for ongoing SEO work. Most SEO companies will try to get you to sign an annual or monthly contract, but 80% of the value will come from the upfront work.
You've put a lot of work and money into your online presence. Don't let it go to waste by ignoring your SEO. Use these tips and tools to rank higher, look better in search results, and generate more traffic to your website.
Claire Akin is a content marketing expert for EveryIncome and the founder of Indigo Marketing Agency. Claire is a former Investment Advisor Representative and works with several of Barron's Top 100 Financial Advisors to grow their firms with digital marketing.