On a late-summer day in 2009, a year or so into a financial crisis that left money managers scrambling, Aaron Morrow decided on a whim to go for a jog.
After an hour of running in the soaring Indianapolis heat, Morrow left the paved path and headed a block over to an acquaintance's financial planning office for a glass of water.
That unplanned stop turned into a job offer.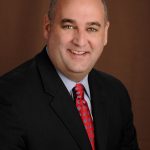 "The guy said, 'My financial advisor and planner buddy just resigned an hour ago because of the financial crisis. I'd love to hire someone like you,' '' Morrow recalls. "I told him that was great but I'm already going independent."
"He asked me not to doing anything until after we met again."
That meeting – and that stop for water – put Morrow on a different and unexpected path to helping his clients.
Intersection of technology and finance
Morrow graduated from Ball State University in 1993 with a bachelor's degree in finance, an inherent desire to serve people and a fascination with technology.
The early '90s was an exhilarating era for both finance and technology, too, as the internet and fintech began to flourish.
Lowered interest rates after decades of high inflation sent e-commerce investments soaring, and online stock trading entered the dot-com scene with the launch of E-Trade in 1992.
But Morrow stayed true to his commitment to serve everyday people, taking a job at a small family bank in his hometown of Columbus, Indiana.
"I thought I'd retire there," Morrow says.
But within three years, he moved to Indianapolis to work as a bank manager, then made the jump into investments. When the financial crisis hit, Morrow was with one of the largest U.S. brokerage firms as a full-service investment broker.
The chaos changed him. Tired of taking orders from some corporate sales manager in a different region of the county, he had decided to open his own financial advising business.
"I looked behind the curtain," Morrow says. "I realized these big, full-service firms weren't concerned about the clients. It was advisors, stakeholders, everyone else, and then customers last.
"That's when I decided I was going to go independent."
A fundamentally different path
That fateful run, and the meeting that followed, led Morrow to his current job at LJI Wealth Management in Indianapolis, where he's now Vice President of Investments and serves clients as a wealth management specialist (WMS).
Part of the draw of LJI Wealth Management is that it operates as a Registered Investment Advisory, an independent firm that gives its Certified Financial Planners, Wealth Managers, Insurance Specialists and Mortgage Loan Officers the freedom to offer only the best options for each client.
It was in the post-run meeting that he realized everything you could do under an RIA.
"There's no broker-dealer relationship," Morrow says. "Once you cut that cord, your whole world changes — and for the client, too.
"The client is first and foremost no matter what you're doing every day, be it planning or advising; you're doing what's in the best interest of the client."
Morrow says given what he now knows, he is amazed people still do business at full-service broker-dealer firms, instead of with RIAs that has a fiduciary duty to put clients' best interests above their own.
"It's business as usual. It's unbelievable," he says. "I've got friends at other firms who tell me they can't sleep at night because of the terrible production goals they're facing."
And there's something else RIAs offer that those big firms often don't — education.
It's something Morrow provides for his family – and his clients.
A cut above
Morrow blames a lack of financial education among U.S. adults for keeping the big brokerage firms in business.
He works to fix that for his clients – and at home.
Morrow's 15-year-old son mows lawns to earn money during the summer, and he originally wanted to put the cash into a savings account. Then Morrow showed him how much he'd potentially make over time if he put it into an investment account instead.
"He said, 'Oh, I want to do that,' '' Morrow says, "because he knows the bank's not paying him much of anything."
He also took time to explain interest rates to his daughter when his family refinanced their home, and encourages his wife, a teacher, to include financial planning in lessons for her students.  
He says learning about finances should really begin when kids are in elementary school – as early as kindergarten.
That, though, doesn't often happen.
"People are still really uninformed," he says. "It's embarrassing. We're one of the most educated societies, yet we are taught almost nothing about taking care of finances and money."
"The information is out there," Morrow says of all of the online content, apps and technology available to consumers so they can learn about money and better manage finances.
"It's everywhere. It's accessible, and it's often free."
In money management, it's about time
Morrow's career path, from banking to a big brokerage firm to full-service investments, is common among financial professionals who end up employed at an RIA – or starting their own.
"You have to grow up in this industry, you know? It's kind of paying your dues," Morrow says.
"You can't just come out of college and start your own RIA or firm. Where are your clients going to come from? Where's your experience? Where's the compliance? Who's going to do all of that?"
Morrow's experience puts him in a position to share his knowledge. And for those who don't fully understand investments and need help planning for retirement, he suggests sitting down with a financial advisor to learn about options and set goals.
"I can't give you 20 years of experience in an hour," Morrow warns. "But I can educate you each time we meet and you build on that.
"It's a process, and we go through it together."
If there's one piece of financial advice he could teach everyone, from his kids to elementary students to his clients, he says it would be to start saving and investing as early as you can.
"I tell my kids," Morrow says, "You have one thing on your side and that's time."
And if he could get one message across to his clients?
"As a fiduciary," he says, "it comes down to one simple question:
"How can I help you?"